---
Stories and Essays
---
"The Mere Mortal"
The Sun, May 2010 – Issue 413
Sy Safransky Editor and Publisher
Andrew Snee, Senior Editor
---
"Misery Essential"

Green Mountains Review – May 2010 – Issue 413
Editor, Leslie Daniels
---
"In the Cold, Dark, Futile Woods"

The Three Penny Review – Winter 2011
Editor, Wendy Lesser
A Review:
The Collected Prose of Robert Frost,
edited by Mark Richardson.
The Notebooks of Robert Frost,
edited by Robert Faggen.
---

"Nevada City Diaries"
Open City #29
Editor, Thomas Beller

"Nevada City Diaries"
Editor, Thomas Beller
---
"The Fungibility Thing"
Santa Monica Review, Spring 2009
Editor, Andrew Tonkovich
---
"The Epicurean"

Pushcart Prize XXXIII: Best of the Small Presses (2009 Edition)
Bill Henderson (Editor), The Pushcart Prize Editors (Editor)
Originally published in Threepenny Review, Winter 2007
Editor, Wendy Lesser
---
"The Epicurean"

Threepenny Review, Winter 2007
Editor, Wendy Lesser
"The Louis B. Jones in your new issue just killed me. What a great piece. I had read two or three of his novels and was already a fan. but boy… a new level. So glad it was you who had it. "
— Charlie Haas, Oakland CA
---
"Loved the last issue of Threepenny. But most of all was knocked-out by the story written by Louis B. Jones. What a wonder!
— Michael Ondaatje, Toronto, Ontario, Canada
---
Anthologies
---
"Mere Mortal"
Edited by Gayle Wattawa
Heydey, 2011
The start of a visionary new series
At a time when common opinion perceives California to be in a state of decline, there grows out of this dire situation something that can only be described as amazingly hopeful. What seem to be falling apart, along with everything else, are old clichés and stale certainties. One senses a willingness to question, to probe, to invent new ways of seeing things, and to create new dreams.
Stimulated by what we see on the horizon, Heyday issued an open call for the freshest and most thought-provoking submissions, to be included in a new annual series. Publishers, small presses, literary magazines, specialty journals, and bloggers eagerly responded. Sifting through this response, we discovered articles, fiction, poetry, and even excerpts from memoirs. The variety of voices is dazzling, the range of topics broad, but they all have one thing in common: they all address the California experience with courage, vitality, and intelligence.
Every piece in New California Writing 2011 was selected to engage and challenge the reader–to move beyond the stale repetition of the daily news into the realm of literature that can ignite the imagination and enlarge the vision. New California Writing 2011 isn't just the start of a visionary new series, it marks the beginning of a new decade for California.
---
"A Note to Unpublished Authors"
Writers Workshop in a Book:
The Squaw Valley Community of Writers on the Art of Fiction
Introduction by Richard Ford
Edited by Alan Cheuse & Lisa Alvarez
Chronicle Books (2007)
---
"The Stone"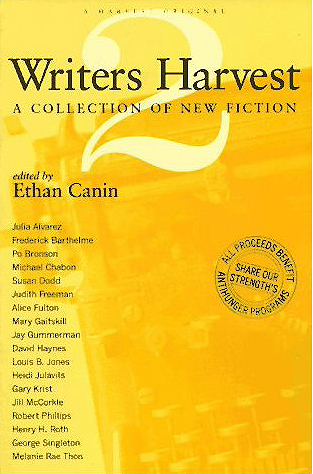 Writers Harvest 2 (Paperback)
by Ethan Canin (Editor)
Harcourt (1996)
From Publishers Weekly
Family tragedy, romance and other, more mundane daily routines are the subjects of the stories in this collection edited by the author of The Emperor of the Air and The Palace Thief. A wide assortment of well-known writers, such as Michael Chabon, Gary Krist, Julia Alvarez, Henry Roth and Frederick Barthelme have contributed stories to benefit the anti-hunger organization Share Our Strength. Perhaps because the writers were mindful of their cause, the stories range from moving to incredibly sad in their depiction of everyday humanity. Physical suffering and illness are themes in many of the stories, from the intense physical discomfort of a kidney stone, so perfectly described in "The Stone" by Louis B. Jones to a cancer patient struggling to maintain his dignity in Henry H. Roth's "This Time."
Copyright 1996 Reed Business Information, Inc.
---
"The Whole Idea of Cindy Potts"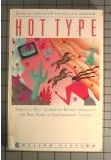 Hot Type: Our Most Celebrated Writers Introduce the Next Word in Contemporary American Fiction
by John Miller (Editor)
Collier Books (1988)
---
Read Excerpts
Excerpt from "The Epicurean"
Published in Threepenny Review, Winter 2007
Now out here in California, reincarnated for a time in a version of an inconsequential paradise, the most fantastic scandal, to me, about Candace Roan was that she had studied seriously to be a nun.  A real Dominican nun.  She had actually been in a convent.  One night while we took bites of fruit and sipped sweet dessert wine in a shared snifter, she told me a story of something that happened during the year when she was on the brink of taking her vows.  I had been teasing her about what a wonderful cliché it was, that a nun should disguise a sexpot, who, as on a night of full moon, at last scaled the high wall and got out on the streets and never looked back, devoting herself to sin.  It provoked this response: she drew a breath and held it, thinking about whether or not to speak, and then she told me that she had once done something… evil.  That pause was there.  Evil is a simplistic or melodramatic idea, probably seldom useful in application, and she arrived at the word with some self-amazement, and some confusion, reluctant to settle such a stole around her own shoulders, her at-that-moment naked shoulders.
It was during her time in a San Francisco convent.  To narrate, she took back her leg and her arms and sat up against the bedstead, and bowed her head to focus on the past, holding in both hands our misty glass snifter of wine.  I saw I wouldn't get another sip.  She was taking possession of it as storyteller rather formally.  She said first of all, nuns are not necessarily innocent in any special sense of the word: a convent is just another human institution, and those high walls of dirty yellow brick (on Geary Boulevard, beyond the big red Gap Superstore) enclose a society like any other, just as liable to meanness or injustice, politics or subterfuge, wit or pleasure or irony.  Indeed, some of those women are very sharp and couldn't possibly dedicate themselves to "innocence," in any simple understanding.  Innocence — she tagged the tip of my nose with a green grape making me blink — is mysteriously distributed, both low and high in Creation.  She certainly didn't think of herself as naïve, when she first arrived at the Convent of the Blessed Virgin Mary — an Iowa girl in San Francisco, doing three years of service in the world before her novitiate.  Twenty-two was an age she considered replete.  She had lived a full, happy, hedonistic life as a modern girl on a modern college campus.  In Cedar Rapids all the usual versions of sin can be found: smoking marijuana in a dorm room, envying her friends' beauty or money, letting herself be taken to burlesque clubs on the Coralville strip, drinking singapore slings and sniffing lines of cocaine in a condominium swimming pool complex with a lonely older man, a man too old for such folly, a man who feels he has nothing at stake in his life; and among her girlfriends the pleasures of the dark heart like malicious gossip or frankly revealing clothes or, for a while, systematically hurting the feelings of a rich handsome selfish Chicago boy.  Everything.  The whole world is right there in Iowa, the same satisfactions of vanity.  And of course, as everywhere, the several possible sexual contortions.  She'd been, during a time of early discovery, the sensualist that commercial culture urges girls to be — or at least she'd tried her best to be — though she couldn't help feeling secretly that, honestly, for women sex wasn't the great mind-emptying solution it seemed to be for men.  In taking the Chastity vow, she'd felt the most difficult trial would be, not to deprive herself of pleasure, but to deprive herself of children.  She had come from a good family.  She had had a warm, confiding relationship with her father, cut off by his too-early immortality.  Also, she loved men, men in general, she loved being around maleness, which a number of nuns did not: a surprising number of nuns had had terrible early experiences.  Perhaps her own men tended to be outside the norm, a bit thoughtful or impractical, or sad, or sensitive, rather than the louder simpler, more aggressive type of male norm, whose nature seems imbued with a mysterious essential wrath, and whom she found herself steering clear of.  They were fine.  They were for other women
Copyright (c) 2007 Louis B. Jones. All rights reserved.
---
Excerpt from "A Note to an Unpublished Writer"
Writers Workshop in a Book: The Squaw Valley Community of Writers on the Art of Fiction
The special advantage of literature is that it doesn't (like the movies, say, or like people) dodge around and make a lot of noise and then vanish from view: literature, on paper in dried-ink marks, is made of assertions that stay put, fairly to be examined, lying open to the play of the eye.  Sentences committed to paper risk outlasting the decades' intellectual fads (fads which, you notice, even the mass of smart people, the very most admired people, for an epoch, can get sucked into).
Instead, the disembodied voice of the author says, I'm alone in a room transcendent of history; you're alone now too; or if anyone is there with you, erase them from your ear.  Of course, you must build "my" story only out of "your own" ideas and experiences; so in this mirror of a shared sentence, recognition takes place: the actual "writing" turns out to be, wholly or in part, the "reader's" job: the reader actively writes each sentence as he goes: this little fountain of words rises within your brain-stem.  Its substance is provided by your reflection and experience.  The miracle of the grammatical sentence is that it can be shared — that it can thump softly through the wall of the lonely self.